Brandsisters is a boutique creative agency that helps brands find and own a rallying cry.
We unearth the story that defines you and inspires fans. The bigger the challenge, the better – a crowded sector, a brand at a crossroads, a start-up ready to disrupt. We were built on grit and optimism. Our goal is always to outstrip and upstage. We pair smart, clear thinking with visual creativity and a boatload of clever ideas.
Are we sisters?

YES

and

NO
Brandsisters was conceived 10 years ago by two sisters separated by the Atlantic Ocean but united in a love of design. Joined by communications expert Katie, they created Brandsisters.
Big ideas come to life with our team of strategists, writers, designers and developers.
Eva Brandstötter-Reilly
Eva's heart was stolen by design. She swoons over typography and loves PMS 4563.
A strategic and creative thinker, she is adept at giving organizations the flexibility to grow within a clear visual language. She has worked with a wide range of consumer and B2B organizations, including fashion, beauty, consumer goods, food, heavy industry, healthcare, architecture and publishing.
She loves radishes on buttered bread, mountain biking, skiing, Netflix binges, Zara, her family and her cats, Stella and Mimi. She never became an opera singer.
Katie Eva
After nearly two decades as a partner in a London PR agency, Katie arrived in NJ with her family, her worldly belongings and a desire for a new challenge.
An experienced facilitator and ideas junky, she runs brand and creativity workshops. She has worked across a range of consumer and B2B sectors, including fashion, financial services, government, nonprofit, education, environment, travel, consulting and architecture.
She loves hiking, trees, swimming, her family, her dog, Twiglet and Werther's Originals. She'd like to finish the children's book she started years ago.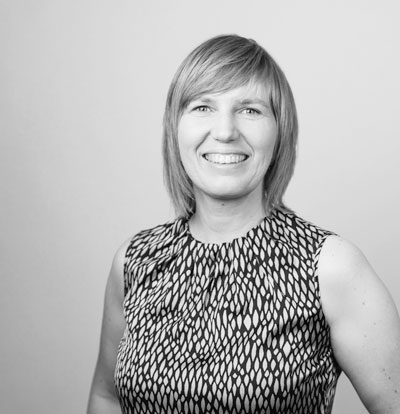 Christina Brandstötter
Inspired by the beauty of her home city, Vienna, Christina has an incredible eye for color and pattern. With a flair for creating inspiring packaging, she is also adept at bringing structure and flow to presentations, corporate literature and display materials. She has worked with a wide range of consumer and B2B organizations, including galleries, fashion, beauty, food and nonprofit. She loves kids, biking, ski touring, hiking, Viennese coffe-houses, and of course she loves desserts. Understandable, given that she lives in the dessert capital of the world. Sachertorte, Apfelstrudel…
Twiglet
Highly creative collector of sticks, he goes by the motto – the bigger, the better. Award-winning snoozer, Twiglet spends his spare time learning human speak. Now counting over 20 words in his repertoire, "squirrel" is his clear favorite. His theme song is the 1994 hit, "I like to move it", by Reel 2 Real.
Built on grit.
Fueled by ideas.
Our Manifesto
We believe that words speak louder with action.
That curiosity kills cats not ideas. That sleeping dogs should wake up.
We believe if you can't beat them, try harder.
In biting off more than you can chew and chewing it.
We believe that time flies, heals and tells but doesn't wait.
We believe that a good ending needs a good beginning.
That boldness favors fortunes. That it ain't broke, ain't good enough.
We believe that beholders will eye your beauty. And books are judged by covers.
We believe that a little knowledge is a dangerous thing. That a lot is always better.
And we truly believe that honesty is the best medicine and laughter the best policy.